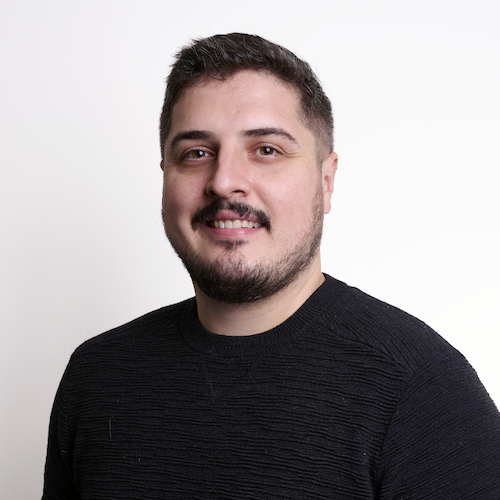 Assistant Professor,
Department of Methodology,
London School of Economics and Political Science
___________
I am a political methodologist and comparativist who studies Chinese politics, natural language processing, and machine learning. I earned my Ph.D in Political Science and Scientific Computing from the University of Michigan.
My book project answers the puzzle of how authoritarian states can effectively control information in competitive media environments. I find that resistance from profit-driven internet platforms moderates heavy-handed repressive behavior of states, making information control less visible and less prone to popular backlash. Counterintuitively, market forces increase the effectiveness of information control because they lead profit-driven media companies to defy the state in efforts to satisfy reader/user demand for information and provide a user experience that is better than competitors.
My methodological work advances and facilitates the use of supervised machine learning and active learning approaches to automated text analysis. In the process of my dissertation research, I used and developed these methods to add structure and annotations to large, unstructured text corpora. Open source software in development will be useful for a broad range of social science applications.
My research with Mary Gallagher has been featured on The Monkey Cage (Washington Post), China File, and 端傳媒. My research with The Citizen Lab has been featured in New York Times, China Digital Times, Telegraph, AP,立場新聞, and 明報新聞.
Writing: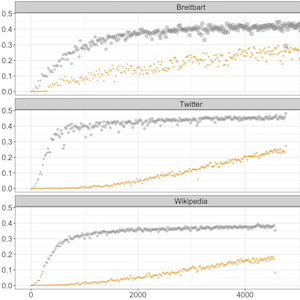 Active Learning Approaches for Labeling Text: Review and Assessment of the Performance of Active Learning Approaches (with Fridolin Linder and Walter Mebane)
Conditionally Accepted,
Political Analysis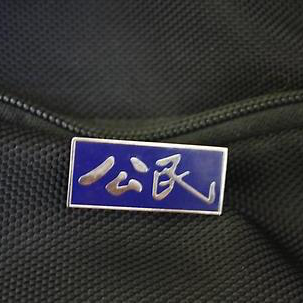 Who Not What: The Logic of China's Information Control Strategy (with Mary Gallagher)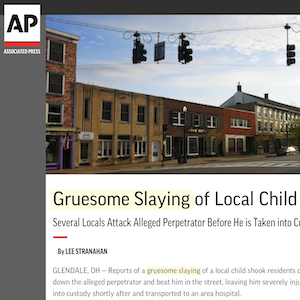 The Dangers of False News: How Sensational Content and Outgroup Cues Strengthen Support for Violence and Anti-Muslim Policies (with Jeffrey Javed)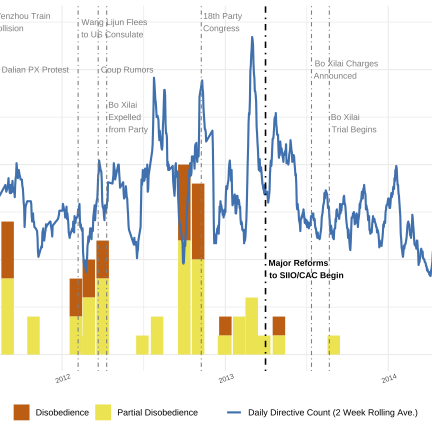 Reassessing the Targets of China's Online Censorship Apparatus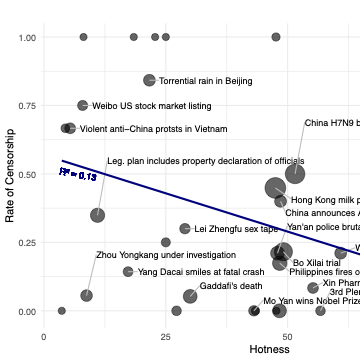 The Limits of Commercialized Censorship in China
Mobilizing Hate: Moral-Emotional Frames, Outrage, and Violent Expression in Online Media (with Jeffrey Javed)
Automated Detection of Chinese Government Astroturfers Using Network and Social Metadata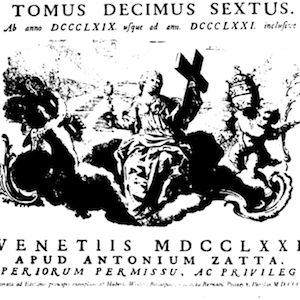 Measuring Changes in Vatican Social Policy from Papal Documents (with Anna Grzymala-Busse)
Frauds, Strategies and Complaints in Germany (with Walter Mebane and Joseph Klaver)
Simplifying Supervised and Active Learning for Text Analysis: Introducing ALTA, a Software Platform for Labeling Texts
Dissertation Abstract:
A large body of literature devoted to analyzing information control in China concludes that we find imperfect censorship because the state has adopted a minimalist strategy for information control. In other words, the state is deliberately selective about the content that it censors. While some claim that the government limits its attention to the most categorically harmful content—content that may lead to mobilization—others suggest that the state limits the scope of censorship to allow space for criticism which enables the state to gather information about popular grievances or badly performing local cadres.
In contrast, I argue that imperfect censorship in China results from a precise and covert implementation of the government's maximalist strategy for information control. The state is intolerant of government criticisms, discussions of collective action, non-official coverage of crime, and a host of other types of information that may challenge state authority and legitimacy. This strategy produces imperfect censorship because the state prefers to implement it covertly, and thus, delegates to private companies, targets repression selectively on influential social actors, and engages in widespread government astroturfing to reduce the visibility and disruptiveness of information control tactics. This both insulates the state from popular backlash and increases the effectiveness of its informational interventions.
I test the hypotheses generated from this theory by analyzing a custom dataset of censorship logs from a popular social media company, Sina Weibo. These logs measure the government's intent about which content should and should not be censored. A systematic analysis of content targeted for censorship demonstrates the broadness of the government's censorship agenda. These data also show that delegation to private companies softens and refines the state's informational interventions so that the government's broad agenda is maximally implemented while minimizing popular backlash that would otherwise threaten the effectiveness of its informational interventions.
Teaching:
1. Applied Machine Learning for Social Science (course offered in Dec. 2018 at Dartmouth College, Instructor):
Course Overview:

This course introduces the theoretical foundations of machine learning, statistical inference, and prediction, explores the many applications of statistical machine learning methods to social science research, and examines the broader social impacts of algorithms and machine learning on contemporary politics and society.
2. Intro to R & Python for Social Science Research (POLSCI 514, Instructor):
Course Overview:

This course introduced software and programming tools necessary for social science research and statistical methods. The design of the course, assignments, and quizzes were all my own.

Course Materials:

Course materials can be found on Github. They include weekly R lecture notes and a presentation on moving from R to Python.

Course Eval Comments:

"Blake was one of the best instructors that I've had in graduate school. Learning `R' and other programming can be intimidating and Blake offered the perfect introduction to the content. He managed to be at once thorough and concise, demanding and patient. While some might use their coding pedigree to intimidate or impress, Blake instead uses his substantial background to highlight what matters and what does not, what is 'essential' to learn now and what can be acquired later. While it was by necessity a course that provided an 'overview' of the content, I've been pleased to discover that I know enough to undertake many analytic studies in 'R' in other courses, and he's equipped us with the knowledge of where to go in the documentation and online for when we encounter a challenge. My only regret - that Blake isn't teaching in the spring so I can't learn other programming languages from him next term!"
"A qualified teacher who took a tough topic and made it accessible to everyone. Very understanding of issues and willing to help. I just wish we had more class time!"
"Blake was deliberate and thoughtful in his selection of material, always maximizing our limited class time for the most efficient overview of the material, while offering a variety of additional resources and assistance outside of class to ensure that students were able to fill in any gaps or go beyond the material as they so desired."
3. China's Evolution Under Communism (Graduate Student Instructor for Mary Gallagher):
Course Overview:

This course covered the history and politics of modern China, from the late Qing Dynasty to the present.

Course Eval Comments:

"Blake was a great instructor for this class and was well versed in the subject matter. He always encouraged discussion and questions from his students."
"Blake's section really complemented the lecture well because while we covered a lot of material in lecture, Blake's section ensure we got the timeline of events down, and explained in detail difficult events. Blake was an amazing GSI."
"Blake is a terrific GSI, extremely knowledgeable, and overall a very interesting person."
"Always brought in relevant examples that tied to themes we learned in lecture!"
"This is one of the best class I have ever taken. I am increasingly curious about this topic. I have learnt a lot and the lecturer as well as the TA did